Here's a 7-minute sloppy mess of an amp demo I made with my new/old Laney AOR Pro-Tube 5012 combo. Aside from the obvious Zep, Joe Walsh and Def Leppard riffs, this was all stuff I just made up on the spot while recording it. Just mostly messing around. I tried to cover the clean, mid-gain and high-gain tones.
I used my 1995 Fender American Standard Strat with stock neck and middle pickups and Seymour Duncan Lil' '59 in the bridge. Also my 1991 Explorer with a Seymour Duncan Screamin' Demon in the bridge and Tone-Pros AVR-II bridge/tail[piece combo. (Thanks Wookie!) I had an Aphex Guitar Exciter in the effects loop, it was on the whole time.
This Laney was made in 1985, looks like a floor safe, runs on 2 EL34 power tubes, 4 12AX7 preamp tubes, has onboard reverb, effects loop, switchable speaker impedance. The preamp has 2 modes, normal and AOR, but one shared EQ with pull-boost on bass/mid/treble.
Some pics: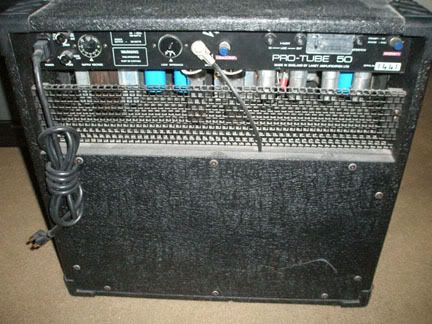 Huge cabinet for a 1x12, original Fane speaker. Jolly good, Guv'nah.
Cryptic writing
Look at the size of the transformers.
Grimy Guts